Here at Hog Roast Battle we can cater for any type of event you have in mind. Whether that is a formal three course meal for a wedding or a more informal BBQ buffet we can cater it all! The same goes for the number of guests – it doesn't matter to us whether there are five people or five hundred we are more than capable of providing delicious food for them all!
This week we were hired to cater a birthday party for a little boy who was turning eight. Now, there is nothing unusual about birthday parties, we regularly enjoy catering for them for people of all ages, however this one had a twist. It was a fancy-dress party with the theme of pirates of the Caribbean! Adam, the birthday boy, was a huge fan of the films and wanted his birthday to be themed around them so of course the team at Hog Roast Battle had to join in!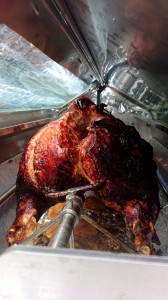 Arriving at the party venue donning out pirate hats we set up our hog roasting machine. For this pirate themed event we prepared a spit roasted hog which seemed to fit into the theme quite well along with wedges and our chef had made a special Caribbean spicy sauce for any pirate's brave enough! As this was an eight-year olds birthday party there was of course our famous burgers and butchers' sausages – even pirates can be fussy eaters!
With a 3pm serve time and thirty children to serve the clock was on and we had already been threatened by Adam to 'walk the plank' if we were even a second late! The plank in this case had been part of the decorations his mum had put so much effort into and consisted of a wooden slide into a paddling pool. Creative!
Three o' clock soon came around, but we had nothing to fear as everything was cooked to perfection and all ready for the hoard of hungry pirates to descend. There were lots of 'Arghhs' but we took that as a compliment from the young shipmates and packed up all our things  after another job well done with Hog Roast Battle…