Our Southern Slow Roast Menu was the perfect addition to Casey and Sean's 5th wedding anniversary party that went ahead last Friday night!
Having missed the chance to celebrate their two previous anniversaries, the couple had decided to go big this year by inviting all of their loved ones round for a tasty meal, which our Hog Roast Coneyhurst team were all too happy to serve!
Eager to keep the event as chilled and relaxed as possible, the pair had come to us weeks earlier looking for an informal style menu that was diverse enough to suit the dietary needs of all 80 guests who had been asked to come along. At that, our catering manager, Adam, had introduced them to our Southern Slow Roast spread, which brings together dozens of authentic flavours from America's Deep South, resulting in a lip-smacking banquet that no one – not even the fussy Francesca – could say no to.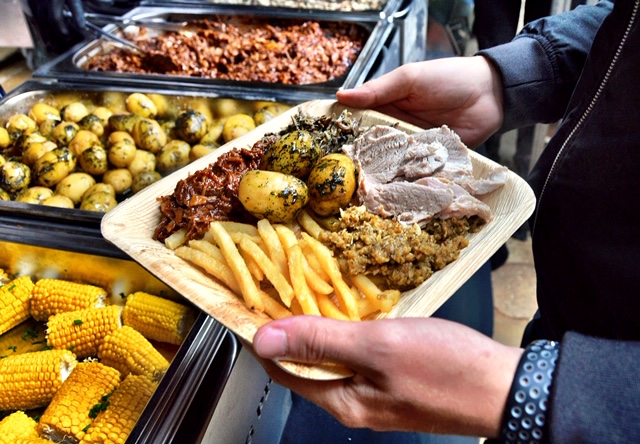 Casey and Sean were instantly won over by the description of the menu, and they were even more impressed when Hog Roast Coneyhurst served the feast on the day. The Texan 24 hour beef brisket was so soft that it cut like butter and melted in the mouths of the guests, while the Cajun-spiced whole roast chickens were juicy and full of flavour. The real hero, though, was the BBQ pork butt, which guests couldn't seem to get enough of! Perfectly crisp on the outside and moist and tender on the inside, this sumptuous pork option was ideal for piling onto gluten-free rolls with the salad and coleslaw sides.
To make sure the veggie and vegan guests didn't feel left out, Hog Roast Coneyhurst had whipped up a batch of grilled veggie skewers, which even the meat-enthusiasts seemed to be a fan of!
Once all of the guests had settled down and were happily digging into a plate of tasty grub, Sean and Casey seized their moment to make a surprise pregnancy announcement, which caused a wave of cheers and excited squeals to tear through the room. What a perfect end to a perfect night!