In addition to cooking up a storm at weddings, birthday and various other private functions did you know Hog Roast Littlehampton also  cater for the corporate client? We are more than able to provide a delicious working lunch for you and your employees or as a welcome event to potential customers. It has unfortunately become the norm for corporate lunches to simply be disappointing sandwiches and wilting salads so the team at Hog Roast Littlehampton are determined to change this by providing heart-warming, flavour full lunches that everyone is sure to love at prices that don't break the bank!
This week we were asked to come and cater at one of Littlehampton's solicitor branches. The partners had decided to put on a corporate lunch to thank their employees for all their hard work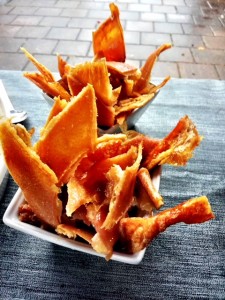 on a recent case that they had won. Hog Roast Littlehampton were happy to help, and we started to design a menu that would suit all needs and could be eaten on the go as was stipulated to us as a necessity. Of course, we thought that our signature hog roast rolls would perfectly fit the bill! This involves us slow roasting a hog on site, making sure we score the skin and apply salt to create that perfect crackling. When it is ready, we then carve the meat and crackling and serve it all up on a freshly baked bread roll. We also provide plenty of accompaniments incase our customers are still hungry for more Hog Roast Littlehampton and these come in the form of seasonal roosted vegetables and a homemade applesauce that just goes perfectly drizzled on the top of a hog roast roll. We knew there were some employees with dietary requirements, so we also made sure to bring along some gluten free rolls and a vegetarian tart so that everyone could enjoy their lunch.
By the end of serving, we had nothing but praise from the partners who there and then booked us in for their company Christmas lunch!