A 70th Birthday is a huge milestone and one that definitely deserves to be celebrated. When Andrew contacted us at Hog Roast Uckfield, asking us to cater a surprise 70th birthday party for his mum, we knew that we needed to make the event extra special.
Andrew and his partner were busy trying to keep the party a secret and had lots to organise, so we wanted to ensure that we took all of the pressure, regarding the catering aspects of the event, off their hands. We knew that we had a strict schedule to adhere to and between 60-70 guests to impress! Luckily here at Hog Roast Uckfield, this is the kind of event that we work on every week and we always love being able to make people's special moments even more memorable.
Andrew had informed us that food is always at the centre of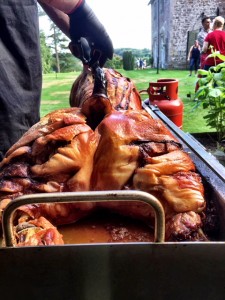 their family events and that he knew that his mum would love our slow roasted meats. Here at Hog Roast Uckfield, we pride ourselves on the quality, taste and variety of our products, so we set to work on preparing a memorable menu for Andrew and his family. We arrived early on the night to ensure that we were all set up and ready before Andrew's mum arrived. There is always a nervous excitement in the air when it is a surprise party and our staff always ensure that they provide the host and guests, everything that they need to make their event run smoothly.
When Christine arrived, she was left speechless at the epic party that her son had managed to arrange with all of her friends and family, right under her nose. She was delighted and a little emotional to say the least! We were overwhelmed with compliments from Andrew and the rest of the guests at his mum's 70th Birthday party! We had a great time catering for it and it always makes our job even more worthwhile, when we know that everyone has enjoyed the food and the service!
Andrew was so happy with our catering that he has asked us to cater for his wedding next year! Congratulations Andrew and we'll see you and the rest of your family very soon!