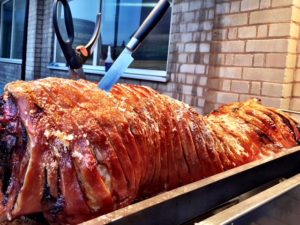 It's not really a mystery why hog roast Battle events are on the rise, after all hog roast is a fantastic feast that almost everyone can enjoy. The only real mystery is why it has taken so long for people to realise what a great catering solution they have been missing out on all these years. It may be that the desire of people to care more about the food that they eat and quality of the cooking involved has helped people see the benefits of hog roast. It has certainly been good news for the hog roast hire Battle caterer as they are busier than ever!
The Best Hog Roasts In Battle
Hog roasts were the ultimate in back to basics feasts. A pig, a fire, a spit and you had amazing food. Things are little bit different now but the principles of simplicity remain the same. The pig is of course very important and the hog roast chef makes sure that nothing is left to chance when choosing your Battle pig. For this reason, a lot of effort goes into selecting a good quality pig and that means finding a reputable supplier who only rears good quality local pigs. All good chefs wax lyrical about the importance of good quality local produce and how it can make the difference to a meal. Hog roast is no different.
Another change from Medieval days is the open fire. This change however is a beneficial one in that the chef can utilise one of our specially designed hog roast machines. These are not just a gimmick, they are fantastic pieces of equipment that not only look amazing but give the chef ultimate control when cooking hog roast, although they can be used to roast a variety of meats if need be. The hog roast machine is also a bit of a visual feast for your hog roast Battle guests as this is where the chef will cook the meat for everyone to see. This is real cooking, don't forget.
Hog roast really is one of the most versatile catering options available these days. There cannot be many catering meals out there that can satisfy the demands of the informal party organiser and the formal occasion organiser too, but hog roast does indeed do just that. Hog roast may have a reputation for being a rustic, free and easy meal and you can indeed enjoy it in just that way. You still get to enjoy the incredible taste of hog roast but on superb hot rolls with sauces. But for the more serious event, hog roast comes into its own. The hog roast catering team can really lay on the formal treatment for you by presenting a gourmet hog roast dinner with potatoes and deliciously crispy crackling. In short, hog roast can make a meal that would grace any top corporate or formal event with ease.
A Traditional Yet Popular Cooking Method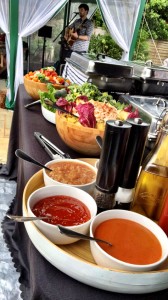 If you are in the process of planning and organising a special occasion and have to come to a crossroads about the catering, take a leaf out of British history and choose something that has stood the test of time. Make sure your Battle guests enjoy the very traditional hog roast.
You may not think so but the British Isles has a pretty grim history when it comes to conflict. Look around the nation and you will find reminder after reminder about the many conflicts and wars that have affected this land. Some, of course, have more historical significance than others but all have helped shaped the nation we live in to some extent. Battle in East Sussex is home to one of the more historic and legendary conflicts in British history back in 1066, when William, Duke of Normandy defeated King Harold II. Legend has it that an arrow through the King's eye was the fatal blow. Nasty. Now, Battle is not a scene of conflict, in fact the town is quite the perfect English town and home to some six thousand people. Not a 'battle' or conflict in sight. History is not just about wars and conflicts, of course.
Something that we should all be grateful for from British history is the Medieval culinary delight that is the hog roast, although you could say history is repeating itself. Just ask the hog roast hire Battle caterer! Hog roast has risen once more and is now enjoying a new lease of life as one of the most popular new catering options at functions and events here in Battle and across the United Kingdom.