We are Sussex's most successful hog roast hire and catering company, but we can't take all the credit, a good chunk of it deserves putting on our hog roasting machines. It's the hog roasting practice and the machines we use to hog roast that are responsible for a good part of the finished product. Sure, we turn the machines on and source only the finest of local food, we mere humans guarantee that the event goes without issue, but it's the machine that does the most valuable work.
It's the expertly crafted and finished machine that ever so slowly roasts the hog, keeping it constantly turning so all those natural juices and goodness aren't lost. We'd love to tell you that our chefs and staff members once trained Raymond Blanc and it's for this sole reason that our catering is mouth wateringly amazing, but we can't. A huge factor in the quality of our catering, reputation of our company and overall success comes courtesy of our market-leading machines and quality of produce. We can take some credit for that, as we're also butchers!
Impress Your Guests – Cook Your Own Hog Roast
Pig, lamb, chicken, beef, just a few of the meats we can spit roast for you. It doesn't stop there though; the machines also house a grill for barbecuing and can cook side dishes. As with our meats we make sure the produce used for all the food we cook is second to none. Being based locally we've been fortunate enough to have built working and social relationships with many farmers in Burgess Hill and Crowborough, suffice to say we get some good deals on fantastic local produce and we always put it to good use here at Hog Roast Hire Tonbridge!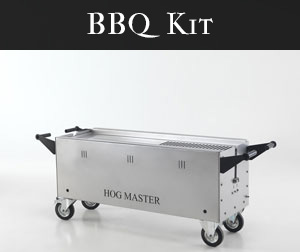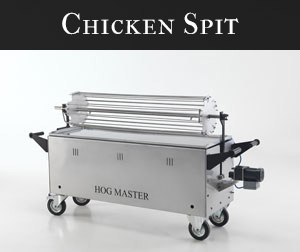 Still not sold? Well here are some more advantages to our machines. The machines come with accessories that let you cook more than just the humble hog. You could cook a lamb, cuts of meat, whole birds, fish and practically anything of your liking. And unlike whole hogs or lambs, if you were to cook chicken you could simultaneously roast 30 of them at once! How does 80 potatoes cooked on one machine sound? The interior of the machines also allow for several traditional cooking methods such as grilling and boiling, perfect for cooking up some tasty side dishes to complete your spit roasted meats.
They're amazingly efficient and have a huge output capability, no matter what you decide to cook. With a Hog Roast Hire Tonbridge you could feed well over three hundred people with only a single machine, without so much as breaking a sweat. Our heavyweight (In the boxing sense, they're actually very mobile) machines will more than feed a small army, if you happen to have a small army on hand. Perhaps the more impressive feature when looking at food output is when looking at the machines relative to just how little effort needs putting in.
[+ show][- hide]