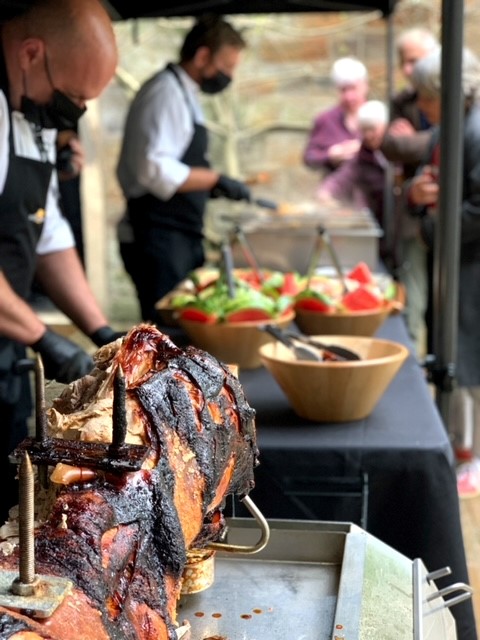 With our highly-trained chefs and service staff we pride ourselves on creating unique,  bespoke dining experiences for you and your guests. Whether it's a much anticipated family get-together, a birthday or anniversary celebration  or perhaps an opportunity for corporate hospitality we take it all in our stride.
With a magnificent hog roast hire Brighton as the centre piece of your unique culinary event, they'll be talking about it for years to come, (or at least until next time!). Catering around Brighton means we have to be ready for just about anything and with over twenty years and thousands of happy customers behind us we're nothing if not flexible.
The Best Hog Roasts In Brighton
Varied tastes? No problem!  We offer six different hog roast Brighton menus to choose from and that doesn't even include our range of options for  vegetarian guests (seriously we hate anyone feeling left out so we've taken great pains to ensure no-one ever does). All our produce is organic and freshly produced. The bread is all freshly baked and our speciality sauces..? Well, they're created from recipes we've honed to perfection! All this and a magnificent hog or spit roast ready to melt in the mouth. Oh, and no need to worry about the weather either; we've already got it covered with one of our mobile gazebos.
Hosting an evening event? That's all in hand too thanks to our portable lighting system. Or perhaps you'd prefer an indoor hog roast Brighton event or even to do the roasting yourself? Why not? We get asked that all the time. Yes, we can supply the machinery and we'll even teach you the basics so you can enjoy getting the most out of it.  Indoors or out we'll also take all our waste away afterwards too, so we even take care of that. The range we offer is pig, turkey, beef and we can also cover occasions such as church fetes, Christmas or Easter. We also can supply rolls, salads or condiments or – Caribbean seasoning such as jerk seasoning. We also supply crushed potatoes, jackets you name we will try to make your hog roast an individual experience.
We can also supply Salmon or Tuna steaks with potatoes done with vegetables such as broccoli. or vegetarian dishes such as stuffed peppers or roasted vegetable dependant on the numbers. With prices that will fit any pocket we build our reputation on listening to the customer's needs. We also do special deals with one of the pubs in the area The Royal Oak if a customer books a hog roast hire Brighton through them the customer gets a discount. Yes sometimes we do even have time to socialise and can be seen in one of the local numbers having a chat and a pint. Once a year there is a hog roast on Ruscombe Green in June.
Leaders In Our Field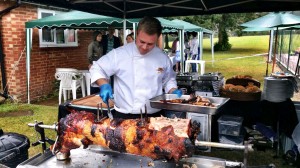 It takes on average about six hours to get a hog roast Brighton ready for serving but because we've  planned it all so carefully in advance all you have to do is relax and enjoy your time being the convivial host. From Portslade to the Marina Village, from the beach to Berendean and beyond; you tell us what you want and we'll take care of the rest. Sound good? Of course it does. See you soon! Happy pigs mean tastier meat and we demand strict standards on animal welfare. All breads, salads and pasta are prepared fresh for your occasion and meat is delivered fresh to your chosen venue on the day of your event. A full range of menus are available to suit all events and our many years of experience guarantees you high quality product and service whatever your event size or needs. So come on try out our hog roast Brighton we will be waiting by the fire with a drink for you.
Brighton.  What a town, or to be more accurate, since 2000, what a city! No matter where our catering  teams travel there's always something new and exciting on the horizon to look forward to. New places, new faces and with over 400 pubs it's a resort choc full of people of all ages looking to have a good time. People after our own heart, in fact. One thing is for sure; there's more to this place than meets the eye and you know what? That suits us just fine. Here at Spitting Pig we offer choice, and plenty of it because we're here to make sure your dining event goes down well, in every sense, whether you're looking to entertain a select soiree or feed a full on Pride Carnival or Fringe crowd!