Hog Roast Hire Haywards Heath has got to be your first choice when it comes to entertaining and feeding a crowd. Nothing is more impressive than the sight of a whole fresh hog roasting away on a spit roast. Whether you are holding a party for twenty or a corporate celebration for seven hundred, a hog roast makes an excellent choice for fuss free dining. Hog Roast Haywards Heath have years of experience when it comes to catering in the hog roast industry.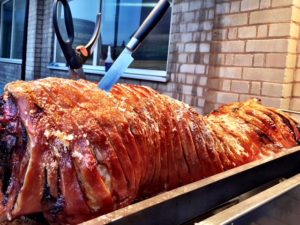 What could bring tradition and history to life better than a stunning hog roast Haywards Heath sizzling away at the centre of your special event? Talk about grabbing an opportunity and being the envy of the neighbours..! Oh, and don't be fooled into thinking that this needs to be a small operation. In a town full of dynamic business leaders we have catered to all sorts of corporate events too. Whether it's a fun, relaxed team-building exercise or a more formal product launch, pitch or investment briefing we know many a successful business deal is struck, signed, sealed and delivered over a plateful of succulent meat and crunchy golden crackling. Our bespoke hog roast Haywards Heath will forge an impression that lives long in the memory and we're justly proud of the reputation we enjoy. After twenty years and more well-fed customers than we can count, it's been hard earned but great fun too.
The Best Hog Roasts In Hayward's Heath
Flexibility is the key to what we do. Working indoors or out, day or night, come rain or shine (thanks mainly to ingenious portable gazebos and clever lighting systems) we take care of the logistics so you can focus on your guests enjoying your inspired hospitality. Over the years we've worked with groups ranging from select private dinner parties to large civic events, and we know they're keen on their Town Tidy Up days down here but we're totally self-contained, even taking our waste away with us after the event.
Knowing how important it is to offer choice to discerning guests and clients these days we've developed six different menus from which you can build your special occasion. All our hog roast Haywards Heath meats and produce are organic and specially prepared, from fresh, on the day. These are perfectly complemented by our freshly baked bread and home made sauces. We're also red hot on being inclusive. Vegetarian guests? No problem; we have plenty of options for them too, not least of which being the opportunity to enjoy a spit roast of their own. No-one need feel uncomfortable or left out. Some of our more adventurous hosts relish the chance to roast their own hog. We simply bring the equipment, offer a little expert guidance and away you go.
More specifically, the traditional art of hog roasting is alive and well and proving as popular as ever in the heart of England. Forget about ready meals in a microwave or cremated sausages on a rain soaked barbecue, the real taste of England can be found in the form of a scrumptious swine sizzling on a spit over the warm embrace of the heat below. There's something almost Neanderthal about cooking a whole beast over heat in the hunter-gatherer sense to feed the assembled throng. Thankfully wearing the animal hide to complete the caveman effect is optional nowadays.
Leaders In Our Field
The joy of being a hog roast Haywards Heath caterer is the sheer spectacle of the show that you put on, young and old marvel and lick their lips in anticipation as the delicious aroma drifts through the air and invades their nostrils inviting them to chow down, on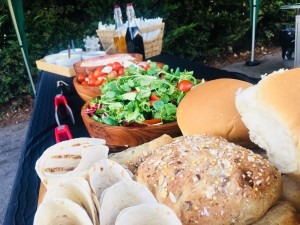 pieces of perfectly pulled pork that fall off the bone and melt in your mouth. Even hardened vegetarians have been known to fight back temptation as they close their eyes and try to fight off the hunger demons.
With no less than forty-eight listed buildings (Victorian and Edwardian mainly) dotted around the place and the conservation area at Muster Green, you certainly get the impression that the locals are justifiably proud of their heritage and that suits us right down to the ground. Say what you will about Hayward's Heath this is a proactive town. The kind of people who know a great opportunity when they see one, and act on it. How do we know? Because at Spitting Pig our teams of highly trained hog roast Haywards Heath chefs and service staff have the privilege of working all over town and the surrounding areas on a daily basis.