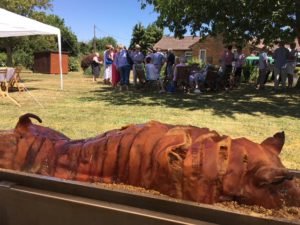 The good people of Horsham are clued up about good food, making our job as a hog roast Horsham caterer much easier because you can appreciate the excellent quality food and service that we provide. Modern caterers have to be flexible, so it's a good job that hog roast Horsham is one of the most versatile options around. We are able to cater for almost any event possible that the 80,000 people of Horsham may require. children's, parties, school fairs, birthdays, anniversaries, weddings, christenings and corporate events are all perfect reasons to wheel in the hog roast Horsham food.
Horsham is a fantastic place to tie the knot, so many couples say there vows in the nearby churches then they look forward to a hog roast feast! Why not have a hog roast to wow your guests with, can you imagine walking up to your reception venue and staring your guests in the face is a stunning hog rotating on a spit covered in golden crispy crackling and its just waiting for you to tuck in. undoubtedly you with smell the hog before you even see it. its sensational!
The Best Hog Roasts In Horsham
It's not all plain sailing. It takes hard work and training to deliver consistent quality hog. It's safe to say though that hog roast Horsham caterers know their stuff and are a determined bunch. They understand that great tasting results means lots of positive feedback, repeat business and recommendations: the best form of advertising! Think of Horsham and you may think of the town's Medieval Festival. It makes sense then that this town should also have its own hog roast caterer too. After all, what could be more medieval than a hog roast Horsham? Okay, so it may hark back to medieval times but hog roasting is now a serious, modern business. There's some serious graft involved and there's a lot more to it than throwing a pig on the fire and waiting for it to cook. This is real honest tasty food taking around six hours of painstaking hog roasting with your average pig serving up one hundred hungry diners. Enough for any old medieval banquet.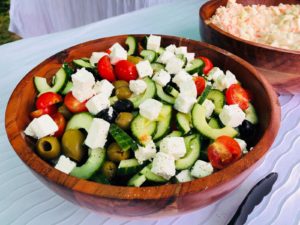 As a caterer, we know that a good hog roast needs to be served at the optimum temperature, and even then, it all depends on how the meat is being served up. Different style dishes call for different preparation. Only the best for the hog roast Horsham diner's. Once six or so hours of roasting have passed, you will be the proud provider of succulent and delicious tasting hog for your guests. They will love the incredible flavours you get during the slow hog roasting process. You'll be an expert at testing the all important crackling, too, serving up the best examples that people have ever tasted.
Quality, Professional, Affordable Caterers
More and more people are looking for value for money when it comes to event catering. These are difficult times for many people and every penny counts. Hog roasts represent some of the best value for money there is in catering. One succulent hog roast will serve a hungry hog roast Horsham crowd of around one hundred and cost a fraction of the price of some other catering solutions.
We think hog roast is unbeatable. Great value, delicious tasting, ultra versatile freshly cooked food that would suit any event. Almost everybody loves the amazing taste of hog roast. Being a Horsham hog roast caterer is a great thing to be. I wouldn't ever look back, I aim to please the people of Horsham with my food.
The people of Horsham know all about good food and drink. Each year the local CAMRA Beer Festival (real ale goes down a treat with a hog roast) and there's an annual Food and Drink festival, too. It all means