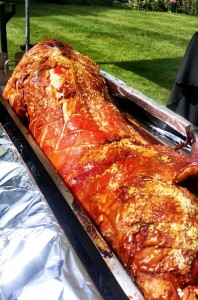 With its village green, rural charm and surrounding woodland, there are certainly a lot of lovely spots in Pembury to choose from when it comes to deciding where to host your event. If you wish you could have complete freedom to choose your ideal venue without having to compromise on the quality of the catering, Hog Roast Pembury can give you everything you want and more.
Our versatile methods and flexible catering team allow us to cater in any indoor venue or outside space whilst always delivering a superior standard of food and service. Our signature slow-roasted pork is a massive hit wherever we provide it, but if you would prefer an alternative meat or a more extensive menu, you will be spoilt for choice if you choose us to cater for your special day.
The Best Hog Roasts In Pembury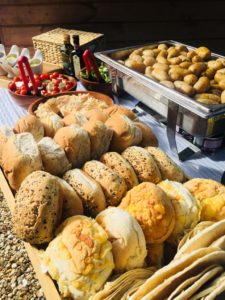 Not only are we the number one supplier of hog roasts in the Pembury area, we also offer a whole host of contemporary menus that offer enough variety to suit all tastes and meet all dietary needs. Here at Hog Roast Pembury, we may be pork experts, but we don't limit ourselves to only offering one thing, however good it is. We recognise that contemporary diners have increasingly varied tastes and our wide choice of menus reflects this.
We have a selection of different meats, inventive vegetarian and vegan dishes and different styles of menus depending on the level of formality your event requires. We offer everything from classic hog roast sandwiches served with crunchy crackling and our homemade apple sauce, to large help yourself buffets and refined 3 course meals. For extra special occasions, we can supply our own handmade canapés complete with events staff to greet your guests and waiting staff to provide attentive table service.
Whichever menu you choose, every part of it will be freshly prepared on-site using the best home grown ingredients available, even if we are preparing one of our more complex menus for a large number of people. Our highly organised catering team work with flair and accuracy to ensure everything is absolutely perfect and ready to be served right on time.
If you like the sound of our inspiring menus, commitment to quality and versatile approach, do not hesitate to get in touch with us here at Hog Roast Pembury to discuss your catering needs.