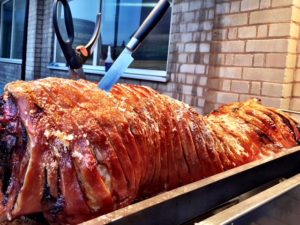 Don't ever let a poor dining service ruin an event again. With Hog Roast Storrington we can guarantee a unique and stylish event catering experience that will leave none disappointed at your events in Storrington. We have been told many times that our speciality hog roast services are a welcome addition to events, providing something with a bit of difference and novelty to it above your usual tried and tired catering services.
At Hog Roast Storrington that is always what we are trying to do – shake up the catering game to bring truly special experiences to your most cherished events! With a fine selection of meats and sides, and a speciality in exquisite slow-roasted pork's Hog Roast Storrington is assured to impress every one of your guests, so whether you're planning dining options for a wedding, corporate function, anniversary, birthday, festival or otherwise you'll find few better than us. And, what's more, we've helpfully made this exceptional dining experience entirely affordable so that no one need miss out!
We've brought back the traditional spit roaster for all our roasts since we believe that, sometimes, the old ways really are the best. With a proper spit roast your hog roast comes to an even better result than any other method. With the fiery charring of the spit roast the hog roast really locks in all of its flavouring and fine spicing to create a delicate roast like you've never before tried. Meanwhile your inner meat remains perfectly juicy, since the turning action of the spit keeps all the flavour and juices circulating throughout. This is the way roast dining is meant to be enjoyed – you'll never try another caterer again!
Scrumptious Servings In Storrington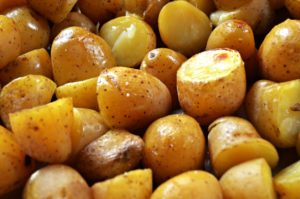 Accompanying our speciality hog roast is a huge range of menu options all available at the exact same standard and care that we put into our namesake. We have a full complement of exceptional meat dishes, vegan sides, veggie appetizers, and gluten-free foods available in any combination of buffet or set-menu style dining. With Hog Roast Storrington there is absolutely no compromise as we work flexible to your budget without liming on quality.
With such quality you most assuredly cannot afford to miss out. So call Hog Roast Storrington and make your next event one to remember today!