A lot can happen in fifty years. Since the summer of '69, the human race has seen a whole host of changes. Changes to the planet. Changes to technology. Changes to culture. Yes from the age of Hendrix and hippies, to the age of PlayStation and Facebook, a lot has changed, and one of our most recent customers here at Hog Roast Battle, happens to have seen them all go by. Michael, was born in nineteen sixty nine, and was on the edge of turning of fifty, earlier this year. We were contacted by his daughter Eleanor. She, like us, believes that half a century on this planet is something that deserves celebrating in style!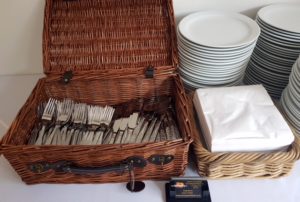 With our help, Eleanor planned a surprise party for her father, to be held in a Function Room not too far from his house. She asked us to provide a big spread, packed full of variety and flavour in order to cater for the large guest list that she had invited. A popular figure, the number of Michael's guests was well over 100 people, comprised of his friends, family, colleagues and neighbours. We suggested the Southern Slow Roast Menu, that includes your choice of three different meats. She selected the BBQ Pork Butt, the Cajun Spiced Whole Roast Chickens and the Texan 24HR Beef Brisket, complete with a selection of sauces and sides, including the Cajun Spiced sweet Potato Wedges and the Skin-on Southern Style Whole Baked potatoes.
The team from Hog Roast Battle were on site hours in advance in order to get everything ready, slow roasting the different meats and preparing the sides – there were also desserts to prepare for later! But it wasn't long before the lights were dimmed and a packed room fell silent in anticipation of Michael's arrival. When he walked in he got the fright of his life, as the lights flicked on and everybody yelled 'surprise!' The party progressed with drinking, dancing and laughter before the magnificent banquet was served, and everybody grabbed a plate from our catering assistant and was served their choice of meats and sides buffet style.
Later, desserts were served, the chef's special –Sticky Toffee Pudding, served with a choice of custard or a scoop of vanilla ice cream. Michael thoroughly enjoyed his birthday celebrations, and Eleanor thanked the team from Hog Roast Battle for a job well done, as they discreetly tidied away their mess and disposed of any waste offsite.