Hog Roast Horsham is proud to offer a selection of personalised catering packages which aim to suit all event style and budgets, and with years of experience in the industry, our teams can roast a pig like no other – even if we do say so ourselves! Since hog roasts are much more exciting than a traditional BBQ and can be had without any of the hassle of cooking, serving and tidying up thanks to our catering extraordinaires, it's perhaps no surprise that more and more people are looking to us to handle their birthday celebrations.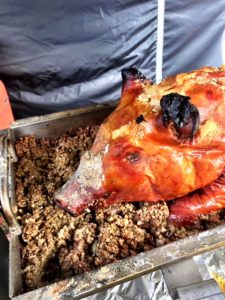 Earlier in the month, the Hog Roast Horsham crew was hired to cook for 35 people at a 70th birthday bash which was hosted at a private home in the local area. The team arrived hours in advance of the guests which allowed them to set up their gazebos in the clients spacious back garden where they began by laying out the eco-friendly wooden crockery and roasting a whole pig on a bed of stuffing which resulted in a golden brown hog with perfectly crispy crackling.
By the time the metaphorical lunch bell struck, the catering team had created a drool-worthy buffet of tender meats including rosemary seasoned spring lamb with mint and a mustard and dill sauce, locally sourced free-range chicken with homemade onion gravy, slow roasted turkey with cranberries, juicy gourmet sausages and 100% handmade beef burgers. Friends, family members and neighbours all arrived to celebrate the occasion and after catching the scent of our delicious food, they flocked to the gazebo to fill their plates and create their own unique concoctions using our snack in a roll option. Freshly made soft floured rolls and wraps, condiments and succulent meats allowed the guests to experiment with different flavour combinations while vegans and vegetarians chowed down on our famous grilled vegetable skewers with the option of haloumi.
With catering manager Matt in charge of preparations, the day went smoothly and the client has since been in contact to thank the Hog Roast Horsham team for making their 70th birthday one that they will never forget.