As a caterer there really is nothing better than being asked to be a part of someone's special day by providing food for their wedding reception. Not only is it an opportunity for us to help make someone's day, but it also serves as a brilliant opportunity for us to get our name out there and to introduce our food to a whole new audience. No matter what type of wedding you are planning, be it a relaxed more informal affair to grand events for hundreds of guests- Hog Roast Horsham can cater to your exact needs!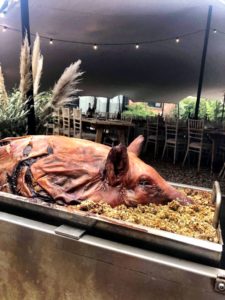 Today's Hog Roast Horsham wedding was for our client Hannah. The wedding was being held at the stunning Rumbolds Farm in Plaistow and we had been asked to prepare our Hog Roast Horsham wedding menu four for just over one hundred guests. Our catering manager, Russ, worked with Hannah and her partner extensively throughout the planning process and as such we could be confident that we had prepared everything to their exact specifications.
With this Hog Roast Horsham menu, you get the complete traditional wedding reception. Beginning with your choice of canapes and drinks reception your guests will receive a warm welcome from our team. For the main course we prepared our classic whole roasted hog with lots of crispy crackling. Russ and our team served up the main course on a platter with our accompaniments in bowls to each table, allowing guests to help themselves. Pasta salad, coleslaw and roasted new potatoes made up the accompaniments along with vegetarian options of grilled vegetable and halloumi kebabs with a cheese free option for our vegan guests.
Last but not least, our Hog Roast Horsham desserts. Our team had been busy preparing each and every dessert by hand and we were happy to serve guests at their tables our mini pavlovas and sticky toffee puddings plus a couple of vegan desserts too. With the guests enjoying their desserts we said our goodbyes and discretely tidied away, leaving the happy couple and their guests to enjoy the evening of celebrations…