Hog Roast Chichester are the ideal caterers for any and all events. No matter how many guests you need catering for or any dietary requirements they may have, our friendly and professional team at Hog Roast Chichester will be able to cater to all your needs!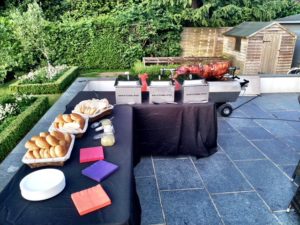 Hog Roast Chichester have been asked to cater at many milestone birthdays over the years, and it's always such a pleasure to be able to have a small part in making somebody's big day. This time however, we would have the opportunity to help celebrate two people's birthdays as we had been contacted by party organiser Katherine to cater at a double 16th birthday party!
The party was being held at a private home and when we turned up we were blown away by the decorations that had gone into creating the perfect garden party, complete of course with huge light up numbers saying '16' for the guests to pose in front of.
Catering manager Peter had been asked to provide our classic Hog Roast Chichester hog, spit roasted for extra spectacle and served in bread rolls with layers of crispy crackling, tangy applesauce and sage and onion stuffing. For the vegetarian option Peter was preparing a Hog Roast Chichester signature of grilled vegetable and haloumi skewers, served with pitta breads and a tzatziki dip!
We had been given a serve time of 8 o'clock which would give us plenty of time to prepare enough food for the seventy guests and would mean the hog would be beautifully succulent come time to carve. Once the guests had mingled and everyone had sang happy birthday, that was our queue to begin serving up. Luckily the guests were not disappointed with our Hog Roast Chichester buffet and organiser Katherine hinted that she would like to book us again which is always a brilliant thing to hear!