In our expert opinion as caterers at Hog Roast Horsham and having been in the catering business for over a decade we know that there is no event that cannot be improved by the addition of a Hog Roast Horsham! Whilst that may seem biased, you only need to take a look at our glowing testimonials to see that our clients agree. We truly do take pride in the fact that we are leading experts in hog roast catering and its due to this, and the friendly nature of our professional staff, that our clients come back to us time and time again to experience another taste of our fantastic food!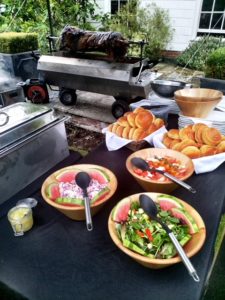 This week Hog Roast Horsham had the absolute pleasure of catering at a milestone birthday for one of our clients Katie's relatives. Katie's uncle was celebrating turning seventy in style with a party hosted by Katie in her home and with the addition of a Hog Roast Horsham!
Our catering manager Peter was on hand to prepare a classic hog roast menu to help them celebrate. For eighty guests, Peter would be preparing an alfresco dining menu of spit roasted whole pig served with a tangy homemade applesauce and lots of crunchy crackling and stuffing. For the vegetarian option there would be our signature grilled vegetable and haloumi skewers served in pitta bread with a fragrant Tzatziki dip. This would all be accompanied by a vibrant range of salads including our chefs speciality tomato and mozzarella salad and the classic Caesar salad. We also prepared some gourmet coleslaw and jacket potato wedges meaning there would be something to suit all tastes.
As the guests arrived and the party was in full swing, Katie gave a toast to celebrate her uncle and officially declared the Hog Roast Horsham buffet open…