If you're looking for fresh, homemade food that will more than satisfy you and your guests at a special occasion that you're planning, Hog Roast Edenbridge will certainly do you proud. We've spent a long time in the catering business, making dishes from fresh, local ingredients and ensuring that our customers and their guests are all able to enjoy our wholesome food, as we not only provide much more than hog roasts (though they are the signature dish that we do extremely well) but we also offer plenty of variety and choice to please many personal tastes and special diets too.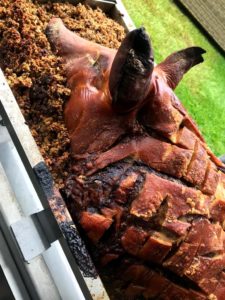 Whether you are thinking of a hog roast or a spit-roasted meat such as turkey, chicken, lamb or beef, or one of each if you prefer, we use fresh, high-quality, locally-sourced meat and you can really taste the difference. We can alternatively cook you and your guests a lovely barbecue this summer, with tasty ribs, gourmet sausages and pure beef burgers, or serve our popular Southern Slow Roast Menu, which gives you three succulent marinated meats, four scrumptious sides and a vegetarian option if needed. If you need additional dishes served, this could include a selection of our handmade canapés or hot and cold sides, or we could provide multiple courses, like a starter, main and dessert. Whatever your needs, Hog Roast Edenbridge can assure you of great food and top-notch service, each and every time.
Over the weekend, we catered a milestone birthday party where Richard celebrated together with his friends and family members with one of our amazing hog roasts but he also asked us to provide a vegan option. He wanted us to make our delectable pigs in buns from the traditional hog roast for most of the fifty guests for his 50th birthday, and also chose our veggie skewers for the vegan guests, which we normally make with halloumi, but we can easily omit the cheese to make them vegan.
On the day of the party, our Hog Roast Edenbridge chef and catering assistants cooked up a storm for Richard and his guests, with the best-looking, best-tasting and best-smelling hog roast centrepiece but also with some fresh, tasty skewers, full of fresh veg, which meant that everyone invited could enjoy seriously tasty food cooked from scratch.