No matter what type of event you are planning, we can guarantee there will be a Hog Roast Rye menu to perfectly suit you and your guests. Over the years Hog Roast Rye have catered at a diverse range of events from weddings and birthdays to christenings and even corporate events. We find that hog roast catering truly is so versatile that our team of professional caterers can easily scale up or down any menu to suit your needs as well as comfortably being able to cater for any and all dietary requirements.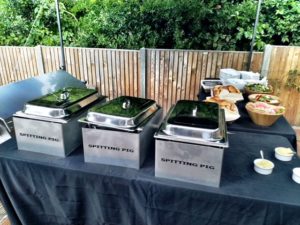 This weekend Hog Roast Rye had been contacted by Perry and Jenny to come and provide the catering for their 25th wedding anniversary which they were hosting at their home. Catering manager Peter was on hand to start planning the event and menu for the day.
Something which is so great about Hog Roast Rye is that we are able to cater anywhere. Although most of our events require us to cater outdoors due to the compact size of some of our machines, we are capable of catering indoors as well just providing there is enough ventilation. In the case of this event, Perry had specially requested for the meat to be spit roasted to add a bit of spectacle to their event and to intrigue their guests. Of course, we were happy to oblige however this meant we would need to be catering outdoors which was actually perfect for Perry.
We arrived mid-afternoon in order to get set up and get the hog slowly cooking away. Any good hog roast chef knows that the secret to succulent meat is allowing the maximum amount of time for roasting to take place. This ensures that when it comes to carving, the meat literally falls off the bone and melts in the mouth. So, although we had a serve time of 8'o'clock, we arrived in plenty of time for the pork to cook beautifully…