The sound of those sleigh bells a'jingling is starting to creep on in, so don't find yourself caught out in the cold this year and ensure your staff has festive menu ready for them this Christmas. It is one of the busiest times of years for restaurants and event spaces with corporate business bookings getting snapped up quickly. Hog Roast Brede is no different. Our festive menu goes quick, but if you do manage to get in then you are in for a treat. It's all the hog roasting brilliance that you have come to know and love already from our menus, along with all the Christmas classics you would expect done in proper Hog Roast Brede style!
Treat your staff for a year quite like no other. Through hardship and uncertainty you and your business and your team have made it here, so why not celebrate in style. Hog Roast Brede has all you need. If you have an event space lined up we'll come on out and get set up with our usual hog roasting and cooking utensils. You and your team can pull crackers, get under the mistletoe, dance to Mariah Carey, take photos and all the usual festive business while our chefs whip you up a truly special feast.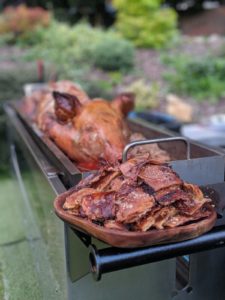 There's no danger of any dry Turkey's reaching the table here, our rotisserie twist on the Christmas classic ensures it is just as juicy and succulent as our pork's. Of course if you prefer a ham for Christmas then you're talking to the experts in pork roasting, meaning you'll get the best, along with homemade sage and onion stuffing and either cranberry sauce or apple sauce depending on which of the Turkey or Pig you are having. The vegetarians and vegans will also be well tended to with grilled halloumi and veg skewers or BBQ pulled jackfruit. And of course there comes the rest of the usual Christmas treat: pigs in blankets, roast veg and potatoes, lavish homemade gravy, cauliflower cheese, and desserts in of mince pies with warm brandy infused ice cream. What could be better than that!
Your Christmas party should be a testament to your year, so make yours a stylish one with Hog Roast Brede today!