As all parents know children can be ridiculously fussy eaters! Which makes choosing someone to cater for their birthday a tricky issue. It is easy to simply go down the burgers and sausages route but many parents these days want something slightly healthier and that's where Hog Roast East Grinstead comes in!
This weekend it was Mae's 7th birthday and she was having a garden party with all of her school friends. Mae's mum, Heather, was conscious that her daughter was a picky eater, but she didn't just want her to eat sweets and fast food on her birthday so enlisted the help of Hog Roast East Grinstead. We decided on a menu of some whole roasted chickens with lots of corn cobettes drizzled in butter and also some 'finger food' to keep the kids happy. We laid out a glorious buffet of halloumi skewers and vegetable kebabs along with the chickens we roasted on site. We also prepared some vibrant salads, to try and entice the children we had a variety of different flavours such as our crispy Thai salad and tomato and mozzarella which we craftily called the 'pizza salad' to get the kids interested.  We also had lots of baked potatoes on hand for the fussiest children, but we were certain they would enjoy our Hog Roast East Grinstead buffet.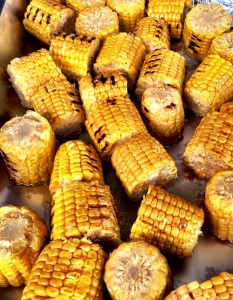 After all the excitement of party games such as musical chairs and pass the parcel everyone was tuckered out and in need of some fuel! We served the children and to Heathers amazement not an ounce of food was left – they had demolished it all. This is something we love to see, and it shows that when given healthy, vibrant food children will love it just as much as the adults.  Mae gracefully came over to thank us at the end, much to her mother's approval, and said that she would love another Hog Roast East Grinstead for her 8th birthday next year!