Hellingly's mid 18th century Georgian country manor, Holmbush House set the scene for a fairytale wedding last weekend when loved-up couple Antony and James finally exchanged vows after years of being head over heels for one another. In the run-up to their nuptials at this classic estate, the duo got in contact with our bubbly customer service team at Hog Roast Hailsham who were more than happy to run them through our menu options and packages before passing them over to expert catering manager Ben who has rustled up more than his fair share of hog roasts over the years!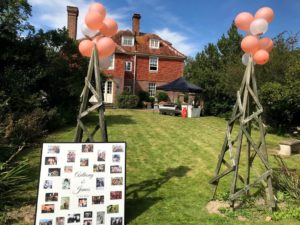 What most people don't know about Hog Roast Hailsham is that although our packages include an array of fresh, locally sourced produce, we are also happy to take a step back and let our clients provide their own food at events (should they wish) – which is exactly what Antony and James opted for when they asked the team to incorporate the sausages they had bought to our classic hog roast menu. With catering plans well underway for the couple's big day, Antony and James busied themselves with tying up loose ends before the special occasion while Ben and the team took care of the rest.
Led by Ben, the Hog Roast Hailsham catering crew arrived at the period estate in the mid-morning to prepare for the afternoon's service which meant setting up their trusty gazebo on the manicured lawn and allowing the main attraction to sizzle away atop of our famous savoury stuffing. Before long, scents of rosemary seasoned spring lamb, sirloin of roast beef, slow roasted pig and juicy sausages had filled the air; and while allowing the meats to cook through at their own pace, the team got started on the vegetarian alternative and moreish side dishes.
When the newlyweds arrived with their 100 guests in tow, they were excited to see the buffet of succulent meats, golden chips, crunchy coleslaw, new potatoes and vegetable and haloumi skewers that the catering team had whipped up and were keen to fill their plates with a little bit of everything on offer. The couple has since reached out to thank Ben and the rest of the Hog Roast Hailsham gang for helping to make their wedding day even more special.