One of the most important things we always ensure to take into account when catering at a wedding is the fact that each and every couple are unique in their styles and visions for their big day. Some people love a traditional wedding theme, whereas others like to go and do something completely different by having a themed wedding. In the past we have seen everything from circus themes to Disney and we always love to get involved ourselves by planning a menu that encompasses your particular theme and of course coming dressed the part when required!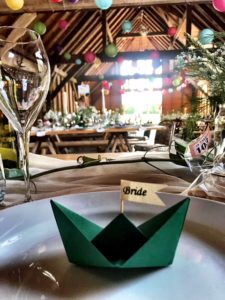 This week Hog Roast Crawley were heading off to cater for a more traditional style of wedding being held at the Yoghurt Rooms on Buses Farm in East Grinstead for Nic and Carli. This was an absolutely stunning location and the reception itself was being held in a barn on the farmland with views of beautiful rolling hill scenery. Inside the barn was just as lovely and had been decorated with personalised banners, balloons and lanterns making for a perfect wedding venue.
We set up our Hog Roast Crawley catering station just by the entrance to the barn meaning guests would be able to take a peek at our food slowly roasting away as they took their seats. Once the speeches were complete and everyone's glasses had been refilled, we began to serve our Hog Roast Crawley food.
We served up our slow roasted hog plus seasonal vegetables and plenty of salads to eagerly awaiting guests. We never let the vegetarian and vegan guests be forgotten about at any of our events and so on this occasion our Hog Roast Crawley catering manager Matt had prepared some of his excellent grilled vegetable and halloumi skewers (with the cheese being swapped out for extra veggies for any vegan guests).
Once everyone had been served, we had just enough time to hand out a couple of our business cards to guests before congratulating Nic and Carli and wishing them the very best as they embark on married life together.