For Edna's 85th birthday celebration recently, Hog Roast Gatwick was asked to prepare a feast for all the senses, featuring a stunning traditional centrepiece hog roast from which to make piles of pigs in buns. When we make these fabulous drops of heaven, we start by lovingly preparing a high-quality, locally-sourced pig from scratch at your venue on the day of your party or event, by scoring it all over, covering it in plenty of water to keep it moist and then massaging in lots of salt, which produces the crackling. Then we set the temperature of the machine and it's turned on and the meat sizzles away for ages, until perfectly cooked both inside and out. Once done, we slice off the crackling and slice up the meat, add bits of both to fresh bread rolls and wraps and top with our own-recipe stuffing and apple sauce and then they are yours to devour – and we guarantee you'll return for more!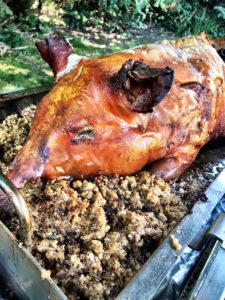 We are often asked for additional or alternative dishes, including canapés, multiple courses and options for special diets, and for this party Hog Roast Gatwick was also asked to provide a vegetarian option and some side dishes, to ensure that everyone invited could enjoy our food. Our tasty veggie skewers would satisfy the three vegetarian guests, with chunks of halloumi cheese and an array of fresh vegetables, including tomatoes, courgette, mushrooms, red and yellow peppers and red onion, all grilled and served with pitta bread and a yummy dip, while our homemade coleslaw and spicy sweet potato wedges could be enjoyed by all of the guests.
Hog Roast Gatwick catered Edna's milestone birthday party at her home on Sunday afternoon, where thirty guests gathered in the back garden to toast the birthday girl and enjoy the feast that we prepared over several hours. While the meat roasted away, we freshly prepared the skewers and wedges and set them cooking on the inside of the machine, totally separate to the meat which cooked above, and then made our crunchy coleslaw, sage and onion stuffing and apple sauce, and by 4pm, it was finally time for us to serve a truly scrumptious birthday tea.