Sue and Jane were born 3 days apart and had been firm friends all their lives. Neither of them could believe it, but they were both about to turn 50, and since they had been inseparable from day one, it seemed only fitting that they had a joint birthday bash to celebrate! The problem was , even though they had so much in common, they were both very different went it came to their favourite foods! Sue was a massive pork fan, but Jane had been vegetarian for the last 10 years and when Sue suggested they had a hog roast, Jane put her food down immediately! Luckily it didn't stay down for long though, because Sue had already done her homework and when she showed her friend Hog Roast Seaford's delicious range of vegetarian options, Jane couldn't believe it!
Realising they could both have the food they loved, they hired us immediately! Sue wanted one of our trademark hog roasts of course, served with the crunchiest crackling and apple sauce, whereas Jane opted for some of our wholesome veggie skewers and homemade quiche. With both ladies thrilled with the food choices, they couldn't wait to get the party started!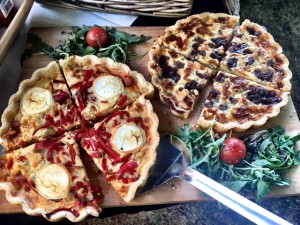 We arrived at their venue several hours before the party was due to start so we had plenty of time to work our magic and freshly prepare the ladies' varied and exciting menu! When the 70 guests arrived, at first no one could believe that Sue had persuaded her friend to hire a hog roast company, but they soon realised that Hog Roast Seaford have a lot more in our repertoire than our unbeatable slow-roasted meat!
The food went down a storm with everyone, meat-eaters and vegetarians alike and the birthday girls had a great night with all their nearest and dearest. They couldn't believe we had managed to provide such a lovely spread that they both loved so much! They thanked the Hog Roast Seaford team for giving them such fabulous food for their joint milestone birthdays, and for finally helping them to agree on something they had never seen eye to eye on in the past!