For a scrumptious treat that all of your guests will love, let our Hog Roast Fairlight experts cater with ease and you can relax while everything's done for you – even the washing up! No matter the size of your party or event or its formality, we have plenty of options to choose from in order to make your next special occasion even more special – and not only our hog roast centrepieces. As well as our delicious signature food, we can also make alternative meat and meat-free dishes, cater for any guests with allergies or intolerances, and we can also provide extra food in case you're planning a menu of multiple courses.
Additionally, we have our own standalone menus, including our Traditional Barbecue, which includes several meats and sides, our Southern Slow Roast, which gives you a trio of marinated meats and sides that you decide on in advance, our Loaded Fries that come topped with meat, slaw, cheese and jalapenos, and our Italian-style Alfresco, which you can find out more about in this blog.
A Hog Roast Fairlight Alfresco is a three-course feast that not only includes a traditional hog roast main with side dishes but also a sumptuous starter of antipasti meats, breads and cheeses, and even a choice of desserts to finish it off perfectly. With this menu, you get the best of both worlds, as your guests can happily munch on our signature food that's adored by many, as well as get something they may not be expecting, and there will certainly be plenty of food to go round.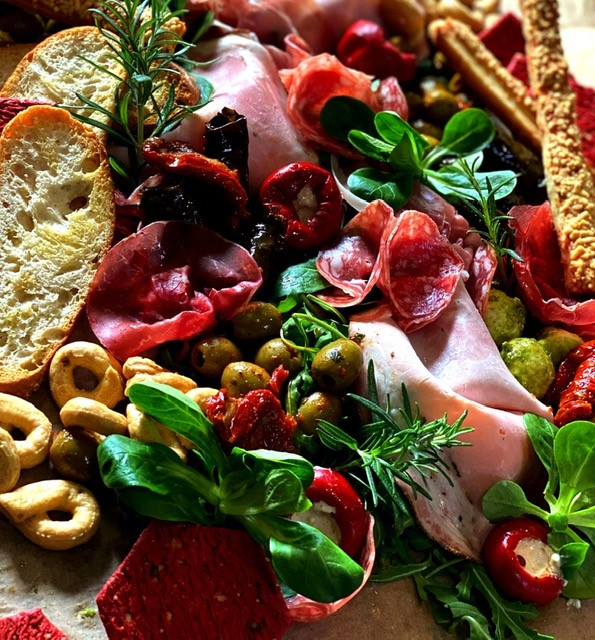 In terms of the antipasti starter, we serve platters of salami, Parma ham, ciabatta, herb focaccia, breadsticks, mozzarella, Gorgonzola and Parmigiano, with extra virgin olive oil and balsamic vinegar for dipping. Once devoured with relish, you can then move on to the hog roast that we serve buffet-style and no doubt the taste will have you queuing up for more, but don't forget that the main comes with coleslaw, salad and a potato option too. Plus you need to leave room for dessert!
For this gorgeous Hog Roast Fairlight feast or something else more your style, call us today and get booked in.