Hog Roast Bolney's catering team hit the high street earlier on this month, but it wasn't for a spot of Xmas shopping as you might have expected! We had actually been asked to help out with the annual Christmas Light Switch-On, which every year sees hundreds of members of the local community congregate in the town centre to witness a stunning display of twinkling lights, followed by an entire evening of festive fun.
Like our fellow Sussex residents, our team had been very much looking forward to the event for weeks, and they had spent the time leading up to it ironing out the details with the organiser, Bradley, until he was content with every aspect of the catering plan.
Finally, the day of the big switch-on arrived, and Hog Roast Bolney was ready and raring to go. Armed with an artillery of cooking utensils, our crew travelled to the venue, where they confidently pitched the catering gazebo in our designated cooking spot and launched themselves into food prep without a moment's hesitation.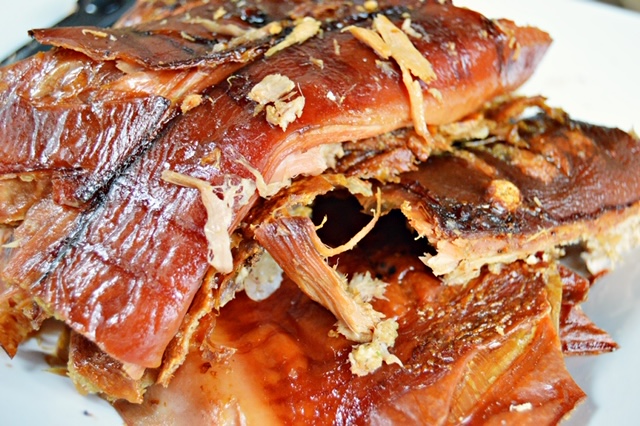 After several hours of lovingly tending to the hefty hog that had been left to rotisserie cook over a low-burning flame all morning whilst the team focused on the salad sides and vegan alternative, the meat was ready to be carved. Taking the lead, our catering manager, Adam, expertly sliced the salted pork rind and piled it high in one of our eco-friendly wooden bowls, ready for serving. The meat inside was deliciously juicy and so soft and succulent that it fell away from the bone with little effort.
It wasn't long after that the punters began to flock, and in the minutes before the lights were turned on, Hog Roast Bolney had made sure everyone was equipped with either a tasty hog roast sandwich or a roll stuffed with BBQ pulled jackfruit and vegan slaw. The combination of delicious food and the light switch being flicked resulted in a chorus of whistles and cheers from the crowd, who spent the rest of the evening celebrating by queueing up to see Father Christmas, having a go on the small collection of fair rides or by indulging in a second helping of our tasty hog roast!