The passing of a loved one is an incredibly sad and difficult time for all those who knew them, and, as a result, making arrangements for the day of the funeral can be an extremely overwhelming and stressful experience for whoever the responsibility falls on. But at Hog Roast Pulborough, we are firm believers that it shouldn't have to be.
Understanding the difficulties and complexities involved, we aim to deliver a stress and hassle-free group dining experience that won't break the bank, served by a team of empathetic and highly professional individuals who will go above and beyond to ensure that your important day runs smoothly from beginning to end. We're also more than happy to amend our pre-set menu plans to suit your unique needs – just speak to our catering manager, Adam, for more details.
Earlier this month, Hog Roast Pulborough was asked by Annika to handle the catering at the wake of Christopher John Stewart, known lovingly as Johnny by his friends, family and fellow rugby enthusiasts at the Pulborough Rugby Club. After Johnny's sad passing at the end of October, all those who knew and loved him prepared to say goodbye at St Mary's Church before heading to the Pulborough Rugby Club for the wake.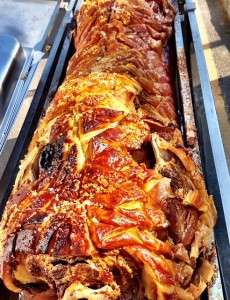 The turnout was great, and with 400 people to feed, the Hog Roast Pulborough team slow roasted one of our largest hogs for the occasion, which they served with crunchy and bubbly crackling, savoury sage and onion stuffing, applesauce, homemade gourmet coleslaw, mixed salad and gluten-free rolls on wooden plates with matching cutlery. For the veggies and vegans, the crew whipped up our grilled vegetable skewers, tzatziki dip, flatbreads with the choice of added halloumi cheese chunks. Everyone was really pleased with the food choices on offer, and no one was left without something on their plates.
The day, while filled with sadness and tears, was also a really lovely celebration of Johnny's wonderful life, and many of those who attended stood up to share their favourite memories of the loving husband, father, grandfather and friend that Johnny was. He will be deeply missed.